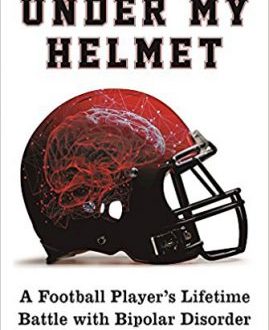 Book Review: Under My Helmet
Under My Helmet details Keith O'Neil's personal story as he struggled with a debilitating—and undiagnosed—mental illness.
Ever since he was a child, Keith O'Neil wanted to play football. Born on the same daythat his father, Ed O'Neil, was cut from the New England Patriots, football was all Keith could think about . . . aside from his anxiety.
Offered a scholarship to Northern Arizona University, O'Neil jumped at the chance to prove himself. Though it wasn't a Division I-A school, he brought his all, achieving first-team All-Big Sky choice as a junior and senior and earning All-American honors. The Dallas Cowboys offered O'Neil an invite to rookie mini-camp. But while learning the playbook, his anxiety and insomnia returned. Even so, he made the team as an undrafted free agent. His dream had come true.
Yet, sleepless nights, constant anxiety, and suicidal thoughts clouded his mind. O'Neil considered stepping away from the game multiple times, even speaking to his coach, Bill Parcells. Parcells gave him the wisdom that "Everyone has a demon in their head, and we have to beat that demon. Beat the demon!" After being released from the Cowboys, O'Neil spent time with the Colts and Giants but still could not escape his inner demons. It finally became too much for him to handle, and he decided to walk away from the game. It wasn't until sometime later that he was finally diagnosed: bipolar I disorder. Finally, everything made sense.
Under My Helmet is the personal story of a man working every day to prove his worth while struggling with a debilitating—and undiagnosed—mental illness. O'Neil's voice is honest and open as he shares his battles and the steps he's taken to overcome adversity.
About the Authors
Keith O'Neil is a retired football player who spent parts of four seasons with the Dallas Cowboys, Indianapolis Colts, and New York Giants. Diagnosed with bipolar disorder upon his retirement from the NFL, O'Neil is now a public advocate and speaker on mental illness through his 4th and Forever Foundation, as well as with the Brain & Behavioral Research Foundation, the Mental Health Association, the International Bipolar Foundation, and numerous other organizations. Keith lives in Buffalo, New York, with his wife and two young children.
Andrew Postman is an author, collaborator, and ghostwriter of a dozen books on a wide range of subjects, including Chasing Daylight: How My Forthcoming Death Transformed My Life and The Power of Story. His work has appeared in the New York Times, the Washington Post, and numerous magazines. He lives in New York City.
* * * * * * *