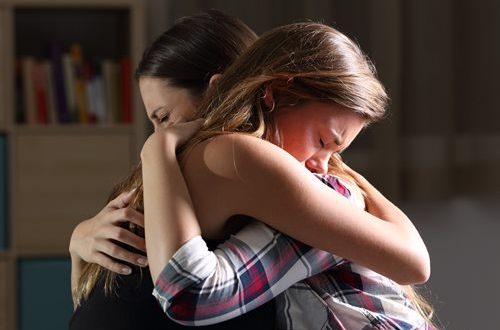 How to Help Someone in Crisis
By Laura Greenstein |

Sep.

20,

2017

 
You're getting ready to meet up with your friend Jill when she sends you a text: "I can't hangout today. Sorry to bail last minute."
"Is something wrong?" You respond.
"Just not feeling life today."
"I'm coming over."
 You get to Jill's house, where you find Jill crying and hyperventilating. She tells you, "Life is too hard."
Jill is having a mental health crisis. So, what do you do?
A mental health crisis can take many forms—self-harm, panic attacks, suicidal ideation, getting in trouble with the law, planning or considering hurting one's self or others—but no matter what kind of crisis someone might be going through, you can help. Make sure to stay with your loved one while they're at risk and do not hesitate to get them professional help.
Practice Clear Communication
When de-escalating someone from crisis, communication is key. It is essential they feel heard and understood, so make sure to give them your undivided attention. This is more than just listening, but also using body language, like eye contact, to show you're listening. You can also use active listening techniques—such as reflecting feelings and summarizing thoughts—to help them feel validated.
"In sessions with suicidal clients, I often try to 'hold their story,' because I know that there are very few people in someone's life who a person can talk to about suicide," explains therapist Larry Shushansky. "Sometimes, just listening can be immensely helpful."
Let your loved one talk about how they feel and ask them questions. Don't be afraid to ask directly if they are thinking about suicide. Talk openly and lovingly about their thoughts. If they need time to respond, allow them to process. You can always repeat the question after a moment of silence, if necessary.
It's essential to use an empathetic, non-judgmental tone. Don't debate whether suicide is right or wrong or whether their feelings are good or bad. Minimizing their problems or giving advice may create distance between you and upset them further. Let them know that whatever they're experiencing is not their fault and offer your help.
"What's going on? What's wrong?"
Jill doesn't answer.
You wait a moment and then ask, "Why are you crying?"
"I try so hard every single day. I try, despite my life being terrible. I'm tired of having to work so hard just to live. Things never get better for me; so, I just don't see the point."
"Yeah, that really sucks. I'm sorry. I've noticed how hard you've been working and I really do believe that your effort will pay off with time. You can't give up now. How can I help you?"
"You can't help me. No one can help me."     
"You're not going to push me away, Jill. I may not fully understand what you're going through, but the way you feel isn't your fault. I'm here for you. I'm not going anywhere."
There isn't one specific response that will de-escalate all crises—based on what's happening, you can assess the situation and provide a supportive reaction. "Try not to figure out what the 'right' thing to say is—just be caring and concerned and let that show through in your conversation," says Shushansky. The most important thing you can communicate in a crisis is that you are concerned for your loved one's well-being, and that they can lean on you for support.
Reach Out For Help
If you feel that you are not able to de-escalate the person in crisis without additional support, call someone. You don't need to do this alone. If your loved one has a mental health provider, that would be a good place to start. If they don't, there are organizations who can help you through any crisis safely. Here are a few resources you can contact 24/7:
Jill's phone buzzes. She looks down at her phone and her expression shifts. She starts crying again.
"What is it?"
"It doesn't matter. There's nothing you can do. Just leave me alone!"
You're not sure what else to say, so you decide to call the National Suicide Prevention Lifeline. Jill sees what you're doing and gets upset.
"I don't need to talk to those people."
"Jill, please. It's just a conversation. I want you to feel better."
She doesn't respond.
You hit dial and get a crisis counselor on the phone. You put the phone on speaker. The counselor asks a few questions and you respond as Jill remains silent. After a little while, Jill reluctantly starts responding. As she receives counseling, you sit next to her as a source of support and comfort. When she gets off the phone, you give her a hug and tell her: "You are not alone. I'm here."
It can be intimidating talking to someone who is going through a mental health crisis or seriously considering suicide. However, sometimes all a person needs in that situation is one person being there, helping them access the help they need. You can be that person.
Laura Greenstein is communications coordinator at NAMI.