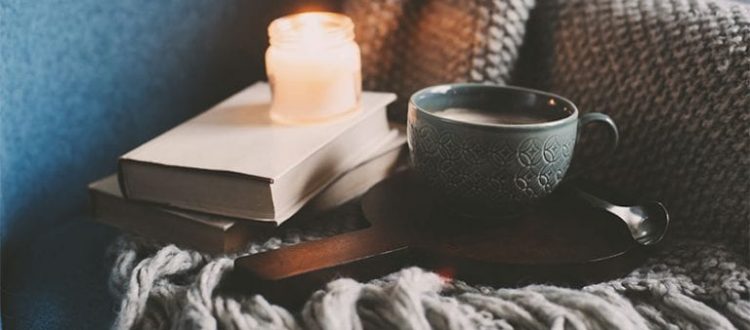 Alleviating My Seasonal Depression through Coziness & Connection
Best advice my therapist gave me was to practice self-soothing. So I use "Hygge"—the Norwegian term for a mood of coziness—to care for my mind, body, and soul.
Every winter, like clockwork, I struggle with depression. One of the best pieces of advice I've gotten from a therapist is to practice "self-soothing," which can do wonders when combined with medication and therapy. Whether I meditate or listen to calming music, self-soothing helps me take care of myself in a gentle, compassionate way, much like I'd heal a wounded animal.
I recently discovered the concept of Hygge (pronounced "hyoo-guh"). It's the Norwegian term for a mood of coziness and feelings of wellness and contentment. Hygge came from one of the coldest regions of the planet, where the sun disappears for months in winter. And yet the Scandinavian countries are some of the happiest in the world. You don't have to visit Norway to enjoy Hygge. I've found some simple ways to self-soothe with it, and they've helped me alleviate winter depression.
Relax by a fire (or candle).
There's something calming about the golden glow of a crackling fireplace. Maybe it's because our ancestors used fires to cook, warm themselves, and to gather around. Fireplaces make me feel relaxed and secure. If you don't have a fireplace, light a candle. I love candles because they give off mood-brightening light and a tranquil scent.
Curl up and snuggle with yourself—or someone else!
I have a fuzzy throw blanket on my sofa at all times. I feel snug and cozy when I'm bundled up, especially in winter. I love lying on the sofa with my boyfriend and snuggling up with him under the blanket. I recently knitted blankets for friends and family so I could share the joy of Hygge with handmade, meaningful holiday presents. The experience brought me closer to my loved ones, and it gave me the gift of pride and accomplishment.
Lounge around.
There's no point in embracing Hygge if you aren't wearing comfortable clothes that bring you joy. Lounging in my fleece robe and fuzzy socks gives me a feeling of comfort. Whatever your lounge clothes are, appreciate them and what they do for you. Hygge isn't about looking sharp; it's about feeling happy by wearing what feels good.
Enjoy a calming concoction.
When the temperature drops, sipping a cup of hot tea instantly relaxes and soothes me. I also love drinking dark hot chocolate, because it tastes delicious and lifts my mood. I never drink coffee or black tea when I'm unwinding. Caffeine just makes me jittery, and that can amp up, rather than mute, anxiety and depression.
Lighten your mood with natural light.
Light is one of the best ways to beat depression. Lots of people who struggle with seasonal depression use daylight lamps, but I opt for natural light. During wintertime, I open all the curtains in my house to let in as much sunlight as possible. The natural light boosts my mood and reminds me to appreciate the world around me in all its glory.
Unplug and get lost in a good book.
Constant dings from alerts on my phone can add to my stress and anxiety levels. Social media can make my depression worse by compounding my feelings of insecurity and worthlessness. When I want to take a break and envelop myself in Hygge, I unplug everything and curl up with a good book. Losing myself in a good story engages my mind with what I consider a very healthy form of escapism.
Connect with others.
Remember that your home is a respite for you, but it can also be a welcoming space for friends to gather in. Hygge is about embracing yourself and sharing your love and compassion with others. What you give you can often get back tenfold. Bake some cookies and invite a few good friends over to enjoy them with you. Host a board game afternoon or start a book club. Whatever you do, make sure it involves real connection and conversation. That's one of the best medicines I've found for coping with the isolation that comes with winter depression. Opening up to others gets me out of my own head. It reminds me that I'm not alone, and that helps improve my mood.
Since I've incorporated Hygge in my life, my seasonal depressions haven't been as hard on me. Hygge soothes my body and mind. By engaging my senses, being present and thankful, appreciating my surroundings, and connecting with others, I'm able to better handle my moods and survive the dreaded winter months. Bringing the spirit of Hygge back from my trip to Scandinavia was the best souvenir I found.