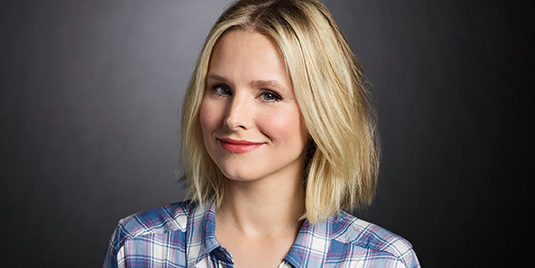 Kristen Bell Is In 'The Good Place'
Actress Kristen Bell has a busy career, a family she dotes on, and a very special message: Getting treatment for depression makes all the difference.
By Jake Taylor
In NBC's fall comedy The Good Place, Kristen Bell plays a self-absorbed hedonist who ends up in the nicest possible afterlife when she's mistaken for a crusading do-gooder. In real life, though, the eco-friendly vegetarian would be a shoo-in: She donates time and treasure to causes like childhood malnutrition, water conservation, and humane treatment of animals.
That's why they call it acting. And in real life, Bell put on an act for years—masking insecurity and anxiety under a bubbly persona and dazzling smile.
"I grew up as the kind of girl who wanted to please everyone, and being funny was one way of gaining acceptance and feeling less insecure," says the 36-year-old star. "I was very outgoing and the kind of person who tried to be sweet and pleasant to make sure people liked me and that I wouldn't get bullied.
"I went to a very small [high school] in Michigan where everyone knew each other, and you can imagine how awful it would have been if you weren't part of the cool group."
Bell is funny—quick-witted in interviews, equally as adept in comedic roles as in dramatic parts. But using humor "to feel more at ease with people and make people like me," as she puts it, came at a price.
"The only trouble with that kind of behavior is that you're forced to put on this happy, bubbly act instead of just being yourself," she reflects "So over the years I had to come to terms with how I had this deep sense of not feeling good about myself."
These days, we can add "stigma" to the list of causes Bell is willing to tackle. Since revealing on Off Camera with Sam Jones that she's lived with depression since college, Bell has taken many opportunities to promote a better understanding of mental health challenges.
While promoting The Good Place with co-star Ted Danson on NBC's Today show, Bell was asked about her brave decision to go public. She talked about feeling a "social responsibility" to let people know that the positive and optimistic self she presents to the world isn't the whole story.
"It's a priority to me to reach people who might be struggling with similar issues that I've struggled with," she explained. "I just wanted other people to know there are options out there if they feel a sense of depression or anxiety."
"I just wanted other people to know there are options out there if they feel a sense of depression or anxiety."  —Today show
Loud and clear
That's not to say her positive outlook is entirely an act. Bell has done and continues to do the work she needs to address her issues and stay well emotionally. She's taken advantage of medical care, self-care and therapy, including regular couples counseling to smooth roadbumps in her marriage. ("You do better in the gym with a trainer; you don't figure out how to cook without reading a recipe—therapy is not something to be embarrassed about," she told Good Housekeeping last year.)
"You do better in the gym with a trainer; you don't figure out how to cook without reading a recipe—therapy is not something to be embarrassed about." —Good Housekeeping
In the Off Camera appearance that started it all, Bell was equally matter-of-fact about taking antidepressants. The responses she saw on social media fueled her personal public awareness campaign. She has talked about how moving it was to see comments from people saying she helped them feel for the first time that taking prescribed medication for depression isn't shameful.
Bell consistently emphasizes that depression isn't a choice or a weakness. It can happen to anyone at any time and for no obvious reason, due simply to a quirk in brain chemistry. Treatment can help people with depression manage their illness, just as insulin helps people with diabetes manage theirs.
In the cover story of Redbook's August issue, Bell used a barnyard expletive to dismiss the idea that, "You're labeled as a failure if you can't kick depression. … You would never deny a diabetic his insulin and go, 'Why can't you process sugar on your own?' "
"You would never deny a diabetic his insulin and go, 'Why can't you process sugar on your own?'" —Redbook
An equally important part of Bell's consciousness-raising: Consulting a behavioral health practitioner should be as routine as going to the doctor or dentist.
"After all, I'll see the doctor if I have the sniffles," Bell writes in a powerful, heartfelt essay that ran on Time magazine's digital site Motto in May. "If you tell a friend that you are sick, his first response is likely, 'You should get that checked out by a doctor.' Yet if you tell a friend you're feeling depressed, he will be scared or reluctant to give you that same advice. You know what? I'm over it."
Family legacy
Bell was a busy, ambitious student at New York University's prestigious Tisch School of the Arts when depression began to drag her down. She was beset by feelings of worthlessness, loneliness, and failure. Depression isn't just sadness, she reminds Motto's readers. "Its debilitation was all-consuming, and it shut down my mental circuit board."
Luckily for Bell, forewarned is forearmed. Bell's mother, a nurse, had already given her "the talk"—not about the birds and the bees, but about a history of "serotonin imbalance" in the women in her family. She warned the teenager what depression can feel like, and explained about the doctors, psychologists and medications that could help. She even discussed the double standard that faces people who seek help for psychiatric disorders, encouraging her daughter to overcome any shame about getting treatment.
Still, Bell didn't go around flaunting her diagnosis when she settled in Los Angeles to build her career. Performing was practically a lifelong dream for the petite blonde, who began singing seriously at an early age.
"I had a lot of creative energy and I needed an outlet so that I could express myself. I took opera classes when I was a girl and I often went to different state competitions where I would sing Italian arias," she says now.
By 13, she had an agent who placed her in newspaper ads and TV commercials. She took acting lessons, joined a community theater, participated in her high school's productions, enrolled at NYU to study musical theater, and got a few parts on Broadway and in TV shows. Her breakthrough role in Hollywood came in 2004 as the eponymous plucky private eye in UPN's Veronica Mars.
Since then, Bell has consistently garnered not only plum roles on TV and in movies, but also a place on numerous "sexiest this" and "sexiest that" lists. She's secure enough professionally and personally that she can declare, as she did in her Time essay: "I didn't speak about my struggles with mental health for the first 15 years of my career, but now I'm at a point where I don't believe anything should be taboo."
"I didn't speak about my struggles with mental health for the first 15 years of my career, but now I'm at a point where I don't believe anything should be taboo."
Bell's latest movie is Bad Moms, which came out this summer. She plays Kiki, an overstressed mother of four—a part that comes closer to Bell's reality than many of her roles. She has two young daughters with fellow actor Dax Shepard, whom she married in 2013.
So Bell was able to draw on all the frustrations and self-doubt that come with raising a toddler and a preschooler in a two-career household.
"I'm fortunate to have a lot of support," she says. "My husband Dax is a very active and involved husband and father who always helps out and is there for me when I need him to help with the kids. I also have my sister who comes and helps me a lot. It's very comforting to know that I'm not doing this alone.
"Being a mother has given me a lot of respect for moms everywhere and especially for single moms," she adds. "I have all I can handle, even with plenty of support, so I don't know how single moms manage."
The enemy of perfection
Like any parent with an outside job, Bell has to grapple with the whole work-life balance thing.
"Having kids embarks you on an entirely different journey. It's a time when your personal interests and professional interests hit a collision point and you have to make a lot of tough decisions about who you want to be," she says.
"I treat my work, and the projects I want to do, in function of how I feel about the needs of my husband and our daughters. I want our family to be happy and together even if that means giving up a good role every now and again. My family is my priority."
But as every honest parent would admit, being at home isn't always total bliss.
"Being a mom means dealing with so much every day," says Bell, who dotes on her girls. "There are going to be moments which are pure joy and then you feel like you're cracking up and ready to scream."
Bell especially likes the message in Bad Moms that "there is no one way to be a good mother … there are many 'right' ways to raise your children, and you have to follow your own instincts."
The pressure we put on ourselves to be perfect can lead down a dark road—and as Bell knows from experience, the same is true when striving for just the appearance of perfection. Her take on the movie is pretty much her message about coping with mental health challenges:
"We know how tough it is and what you're going through. We're all on the same team. You're not alone."
More on Kristen:
THE HIGHLIGHT REEL
Veronica Mars (2004): At 24, Bell passed easily for a snarky high school junior who moonlights as a private detective. The UPN/CW series ran for three seasons and spun off a 2014 movie that revisits Veronica as she's about to graduate from law school. (For diehard fans, there's also a tongue-in-cheek web series that aired on CW Seed the same year called Play It Again, Dick, featuring characters from the original show.)
Heroes (2007): Bell managed to combine perky and darkly twisted as the electrifying (literally) Elle Bishop in NBC's sci-fi series about humans with enhanced abilities. Her murderous character debuts in the show's second season and returns to wreak more havoc in season three before she's killed off.
Forgetting Sarah Marshall (2008): Bell had her first big-screen splash in Judd Apatow's 2008 rom-com, playing the ex-girlfriend of the title. Even when breaking Jason Segel's heart, Bell exudes the personable charisma that is her stock in trade—and demonstrates her chops for comedy. (Bell pops up again briefly as Sarah Marshall in the 2010 spinoff Get Him to the Greek.)
House of Lies (2012): Crafty dealmaker Jeannie van der Hooven brought Bell back to series television in a starring role. The manipulative character's romance with business partner Marty Kaan (Don Cheadle) was a central plot line. The Showtime comedy ran five seasons before wrapping up this June.
Frozen (2013): Voicing the chipper Princess Anna in Disney's 2013 smash gave Bell a chance to put her singing training to good use. The 2015 short Frozen Fever, which played in theaters with a new live-action version of Cinderella, brought beloved sisters Anna and Queen Elsa back to cinemas. At last report, however, Bell hasn't seen a script for the much-anticipated Frozen II.
The Boss (2016): Bell co-stars as Claire, the put-upon assistant to Melissa McCarthy's brash CEO in this spring's raunchy feature film from director Ben Falcone. Bell gamely plays straightwoman to McCarthy's grossly (in every sense of the word) over-the-top performance.
Bad Moms (2016): This summer brought Bell back to the big screen as an overstressed mother of four who rebels against PTA perfectionism alongside Mila Kunis and Kathryn Hahn. Playing the meek wife of an insensitive jerk is definitely not true to life for Bell, whose marriage is by all accounts an equally committed partnership.
KRISTEN IN THE KITCHEN
Petite and trim, Kristen Bell looks like she exists on celery sticks and seltzer. In fact, she maintains her weight—and got back in shape naturally after her last pregnancy—by eating a healthy diet (sugar's a no-no) and working out regularly (not to mention chasing an active toddler). She's even something of a foodie, with a reputation as a great cook.
Do you make special dishes for your husband?
We eat mainly organic at home. I love cooking and I'm always experimenting with different recipes and trying to impress him, although he doesn't always like everything I make him. My kids, though, give me rave reviews all the time!
Any favorite dishes?
I have so many. I often like to duplicate great dishes that I've eaten at restaurants, and I try to buy all the ingredients from local markets. I'll buy free-range chickens for Dax. Otherwise, I love preparing exotic dishes with coconut milk, cooked rice, lentils, and kale.
Any guilty food pleasures?
Dax and I will sometimes order out for pizza. We love eating the most incredibly spicy pizzas you could ever imagine!
Printed as "In a Good Place," Fall 2016