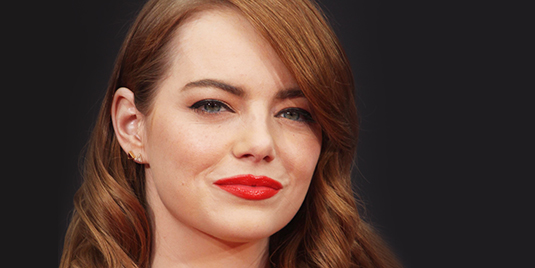 Emma Stone On Anxiety & Panic Attacks
The Oscar winning actress opens up about how she uses her acting as a tool to cope with her panic attacks and generalized worry.
The role that won Emma Stone an Academy Award for Best Actress has uncanny parallels to her own life. Mia, her character in the hit picture LaLa Land, suffers through a series of discouraging and even humiliating auditions. Stone started doing that very same thing in Hollywood at age 15, despite anxiety that troubled her even in primary school.
Acting was one of the tools Stone used to cope with panic attacks and generalized worry—"My brain naturally zooming 30 steps ahead to the worst-case scenario," she told Rolling Stone magazine in a December 2016 cover story.
She especially liked improvisational theatre, or improv, because it requires full attention in the moment, "and that's the antithesis of anxiety." Talk therapy made a huge difference, too, along with imagining her anxiety as a little green monster that would grow if she listened to it but fade away if she didn't pay attention.
Stone's separation anxiety was so severe at one point that she stopped going to friends' homes. Yet by her teens she was moving to Los Angeles with her mother and surviving her own disastrous auditions. After several years of unrelenting rejection, she started to pick up acting work—eventually nabbing major roles in major films like Easy A, The Help, the last set of Spiderman reboots, and Best Picture Oscar-winner Birdman.
By all reports, in real life she's unpretentious, self-deprecating, and quick to joke. In a video she recorded for the Child Mind Institute, she laughs at herself for her somewhat ironic wording in this advice: "What I would tell kids who are going through anxiety is, 'You're so normal, it's crazy.'"
She goes on to celebrate the deep sensitivity and tendency to reflection that goes along with anxiety, and reinforces that it gets easier once you have coping tools and more self-knowledge about your triggers and what makes you feel safe.
A recent story in the Daily Mail, a British newspaper, stresses the same positive message. Stone notes that her anxiety still flares up and at those times it can feel like it's never going to end. Knowing how to manage it has enabled her to live a "vibrant life. … It's so nice to know in those moments of real intensity that it will shift and it will change and there's a lot I can do to help myself."
More from Emma Stone on
NOT GIVING UP ON HER DREAMS: "Acting was something that helped me overcome a lot of my anxiety and doubts in life. Your teenage years can often be very difficult, but I was very lucky that I knew that as soon as I started doing it that this was what I wanted to do with my life. So that gave me a lot of drive and ambition."
HER WORST AUDITION: "Almost every actor I know has terrible audition stories and my worst memory was when I wasn't allowed to have my lines before the actual audition took place. I was 16 at the time and I was having trouble getting the lines right and the casting director started screaming at me and telling me how unprofessional I was. It was insane."
ACTING AS THERAPY: "I'm much more secure now, but I still deal with anxiety. Acting allows me to make productive use of my overly sensitive side and channel all that nervous energy which would otherwise be more of an obstacle in life. My work is such an important and wonderful creative outlet for me that I couldn't imagine my life without it."
GOING OUT IN PUBLIC: "Sometimes I try to show that I'm a little cooler and more relaxed than I actually am. But I prefer being myself and not trying to hide my nervousness or vulnerable sides rather trying to put on a facade or hide behind any contrived public persona. I think the public also appreciates it when you are able to be natural and just relate to people as honestly as possible."
Includes reporting from InterviewHub.
Printed as "Emma Stone: So Normal", Summer 2017