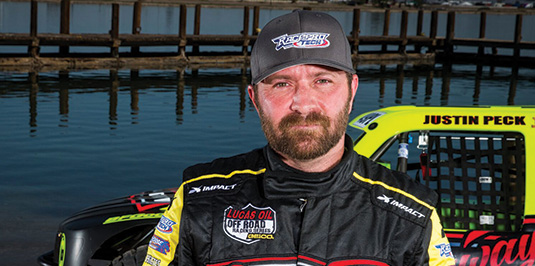 Justin Peck: Taking the Wheel of His Bipolar
His drive for perfection found him balancing his mood swings; now he wants you to know you can be the master of your own fate.
By Linda Childers
When Justin Peck gets behind the wheel of his 4-wheel drive race truck, the outside world ceases to exist. Gone are the manic highs and depressive lows. Once No. 49 dons his racing helmet, the outside chaos of the world disappears and his only focus is on winning.
"Racing is my oxygen," Peck says. "It's the snake charmer inside my head that choreographs my thoughts into something sane."
For Peck, 44, of Salt Lake City, Utah, racing is more than just a reprieve from his emotions, it has also been an integral part of his life for more than 27 years. He is the owner and driver at RacePro Technologies that competes in the 'Lucas Oil Off-Road' racing series and 'Best in the Desert' racing series (and the only pro off-road driver in the state of Utah). He's a back-to-back series champ in off-road motorcycles, four-time USRA series champ, and a national winner in The Challenge of America's series.
Diagnosed with bipolar disorder I, Peck compares the task of guiding his 4,000-pound, 800-horsepower truck on an off-road course, to learning how to balance the ups and downs in his life.
HIGH OCTANE LIFE
Racing is the only time when he feels somewhat in control of his mind and his thoughts, and can experience "true mental peace," says Peck, adding that the act of racing and the focus attained, is actually part of his treatment regimen.
"I've always said that the helmet is my medication," he says. "There's something about being able to put my helmet over my face right before I race that takes away the outside chaos and keeps me focused. It's pretty amazing."
The irony is not lost on him that the elite level of motorsports is largely a mental game. It involves psychological prowess and laser-like concentration to master the breakneck speeds-an unlikely place for someone dealing with mental health challenges.
As he points out, "racecar drivers live in tenths of seconds; the human eye doesn't even blink in a tenth of a second—so a racecar driver can't afford to lose focus for a moment." And he doesn't.
Even so, while being in the race itself provides an adrenaline rush, it all depends on the outcome of the race.
"If I win, the rush can stay with me for a few days and is quite positive," he says. "But if I lose the race or break the truck, the week after can be pretty rough."
With depression comes isolation. He will lock himself in his home for weeks or even a month. He won't answer his phone, text messages, e-mail, or even the occasional knock at the door. It's during these times that Peck's children are by his side to help him through.
THE EARLY YEARS
Even as a child, Peck says his extreme moods and sensitivity set him apart from his peers. He remembers struggling with bouts of depression as early as the age of nine, followed by his first manic episode at age 13.
"I was babysitting my little brothers while my parents were out for the evening when, out of the blue, I felt this incredible rush of energy and excitement over absolutely nothing. Even though it was the best feeling ever, I couldn't control my emotions."
A neighbor called his mother who asked his grandfather to go over to the house to check on the teen. The initial thought was that young Peck might be using drugs. And although his mom always displayed compassion, bipolar disorder simply wasn't on her radar.
"It was the first time in my young life that I truly felt 'bulletproof,' like I couldn't do any wrong, yet everyone else saw a young man losing his mind."
Peck describes his school years as the "absolute worst time" in his life. As a kid he was goofy and socially awkward, and always felt isolated. "And because I was different, there was a constant barrage of bullies throughout my school years who enjoyed taunting me."
He recalls being reduced to tears when his peers picked on him, only to later feel embarrassed by the depth of his emotions. "Everything seemed more difficult than it should have been," he admits.
High school, says Peck, was a hellish experience that alternated between six months of depression, followed by six months of mania where he felt as though he could accomplish anything.
"I would experience extreme highs and lows, and as I got older, my behavior intensified and became noticeably worse," Peck reveals. "Bipolar wasn't a word that was in the dictionary back then, so I didn't have a diagnosis to describe my out-of-control thoughts."
Peck's youth was also a time he discovered his cravings for thrills, risks and the rush of anything dangerous. He became fearless, a daredevil. He learned to channel his energies into racing and since some of his fondest childhood memories were of dirt biking with his dad, he ultimately decided at the age of 17 to buy his own motorcycle. The more he rode, the more he gained confidence in himself and his abilities, and knew he wanted to pursue a competitive racing career.
A LIFE-DEFINING DAY
Not long before Peck was formally diagnosed and treated for bipolar disorder some 15 years ago, his soul-crushing depression he had lived with for so long hit rock bottom. He drove out to the canyon one morning, and in a spur of the moment decision he turned his gun on himself. Miraculously it misfired-thus the title of his 2016 memoir Bulletproof.
It was a defining moment in Peck's life. He remembers feeling overcome with a sense of peace and realizing that he had a lot to live for and that he was destined for something bigger.
"I understood then I was the master of my own fate, and that if I was to fulfill that purpose, I had to fix my brain," Peck writes in his autobiography. "I'd struggled so long with wild mood swings, I knew it was only a matter of time before I'd find myself in another situation like this."
He made the decision that day that he never wanted to ever feel so low that death seemed like the only option. "I realized I had choices and that I needed help in dealing with my demons."
Peck immediately drove out of the canyon that day, called his physician and began his journey to taking control of his mental health. His doctor eventually diagnosed him with bipolar and assured him that there was hope and that with medication and a healthy lifestyle he could manage his mood swings.
At the time of this fateful day, he was married and a father. While relieved to finally have a diagnosis, learning how to manage his life on a daily basis proved to be more challenging.
RUNNING THE RISKS
Peck knows bipolar has impacted all aspects of his life, including his career and relationships with family and friends.
"I have insane highs that I'm addicted to, followed by extreme lows that I try to avoid at all costs," he explains. "My doctor says I'm unique in the sense that I don't assess risks or understand possible consequences."
This is evident in the risks, failures and successes of being an entrepreneur as well as a motorsport professional. Despite never attending college, Peck has created several businesses over the years including RacePro Technologies, Gear49 Nutrition (a nutritional supplement company,) Bulletproof Entertainment, USMA (the United States Motorsports Association), several construction businesses, and two investment companies.
"I don't run my businesses in traditional ways. Since I have no fear of consequences, I've been able to take risks in order to achieve the ultimate gains," he explains, adding he won't take risks with his employees and their families.
Married at the age of 18, and a father shortly after, Peck now has four children, ages, 12, 17, 22 and 26 and four grandchildren. He admits relationships have always been extremely hard for him to handle, and although he's been divorced from his wife for 10 years now, they remain great friends who both put their children's happiness above anything.
He's had to navigate a road full of twists, turns and detours along the way. "When I'm in a manic state, I want to give all of myself to the person I care about, but I don't have the focus or patience to do so, and when I'm in a depressive state, I can't even give 75 percent to myself, let alone anyone else."
And along with mania came periods of hypersexuality, a common, but "secret" symptom that is often the most destructive and challenging part of bipolar.
"During the manic period, you're not looking for a relationship, I tend to focus on the thrill and adrenaline of sex, that is soon followed by boredom," he reveals. "It's a hard concept to explain to a woman and one that can result in guilt and heartbreak on both sides."
KEEPING HIS TRIGGERS ON TRACK
Over the years, Peck has learned to limit his exposure to personal triggers that might ignite an imbalance in his brain. He prides himself on being organized and having a routine, knowing that a set schedule also helps him to maintain stability.
"I buy the same things a lot of the time and I wear the same things because I feel comfort in knowing what works for me and what doesn't," he says with a laugh. "For example, I found a pair of racing shorts I liked and then when I got back home, I bought 20 more pairs so that I would never run out."
In his manic periods, Peck admits it can be hard to rein in his impulsivity-like his big Amazon shopping sprees-and realizes that it is very easy to get into trouble if not checked on by the people who care about him. Alongside his buying habits, Peck's impulsive behaviors have also included gambling and substance abuse.
"Ultimately the impulse of always wanting to be in the racecar runs in my everyday thoughts."
POWERED BY HIS PURPOSE
In addition to his racing career and business ventures, Peck feels compelled to bring awareness to bipolar disorder and to address the stigma often associated with most mental health challenges.
Several years ago he began writing his memoir as a way of helping his children understand how his experiences shaped the man he is today. But as he shared the book with friends, he was told he could help others who were struggling with depression. "I quickly realized that maybe if I was open, honest, and raw about my past, I could change the way others thought about themselves and ultimately end the stigma of mental illness."
He now travels to universities, businesses, and schools across the country to share his story and hopefully make a difference in the lives of others. "I'd like to let people know that they aren't weird, their brain is just wired differently, and if I can help just one person with their struggles, then I've done my job."
STAYING IN THE RACE
During his depressive periods Peck says it's his children who make sure he's eating, taking his meds and are with him as he rides through it. "I am very fortunate to have such a close group of people to help me during the times where life seems impossible."
He shares a special connection with his daughter, Savannah Peck-Atwood, 22, who is an ongoing source of support. Since Savannah is a nurse, and was also recently diagnosed with bipolar, she has a unique understanding of the challenges her dad faces on a daily basis. He says without her, he's "not sure if I would still be here to tell my story."
"When I was younger, I would witness my dad struggling with anger and sadness but didn't fully understand what he was going through," Savannah says. "As an adult, I'm there for him when he's going through a depressive period, making sure he has food and is eating and taking his medications."
When Peck is in a low state, Savannah gathers her children (ages nine months and four) and spends the day watching movies with him. "I know that my dad can't just snap out of a depressive period, so we just let him know that we understand what he's going through and we're there to offer our support."
As for the champion racecar driver, entrepreneur, author, and dad, he's trying to pass on the support he has received to others.
"For so many years, I lived in shame and silence, yet I now realize that with the support of the people that surround me, I can conquer the world and pass along my message in a way that can hopefully change the way the world looks at mental health."
*  *  *  *  *
HOW JUSTIN TAKES THE WHEEL
Step away from your Depression. When he feels depression coming on, Peck pushes himself to take a mini trip to the beach or a destination where he can be around other people. "It not only gets me out, and into the sunshine, but it also offers an energy connection with other people," he says.
Practice self-care. In addition to taking medication, Peck adheres to a five-day a week weight and cardio program and eats a healthy diet, both of which he believes help to keep his symptoms in check. "Your body needs ample nutrition and fuel in order to retain focus."
Have a support system. When he's going through a depressive period, Peck says his children provide unlimited support. "When I'm not feeling great, my kids and grandbabies will come over to my house and we always end up in daddy's bed watching movies and playing games. It truly is a blessing for me to have such wonderful children."
Don't let fear win. Peck understands that conquering bipolar can be hard, when life is full of challenges. He says he often asks himself, "Why would you let fear control your life? If you can control your own thoughts and not let your thoughts control you, you've mastered your life."
Printed as "Justin Peck: The focus of a racing champ," Spring 2018